Surveying Lab
The Surveying laboratory enables the students to understand and practice the basic principles of surveying by conducting field exercises using a wide spectrum of surveying equipment ranging from traditional dumpy levels, tilting level, compass, transits, plane table and theodolites to the latest electronic auto level, digital theodolite, Total station and GPS. This laboratory covers data collection methods including surveying, profile leveling, contouring,compass traversing, laying out of curves, base line measurement and triangulation.
Major Equipments
Total Station
Theodalites
Dumpy Levels
Auto Levels
Cross Staffs
Level Staffs
Chains
Tapes
Ranging Rods
Clinometers
Planimeter
Prismatic Compass
Trough Compass
Arrows
Plane Tables

STRENGTH OF MATERIALS LAB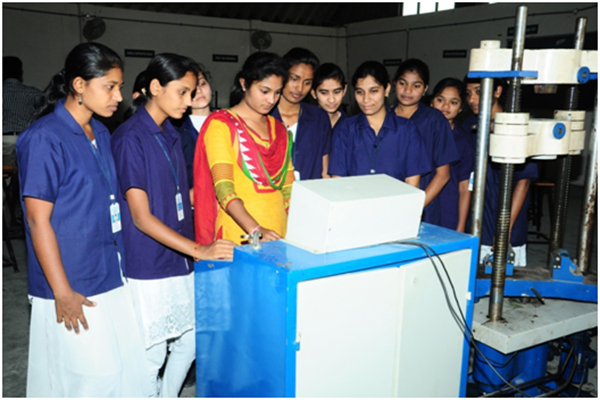 This laboratory deals with the testing of materials for their strength and stiffness. Building materials such as steel, timber are tested to know their response under applied loads with respect to strength, stiffness, deflection and bending. Student will be exposed to testing of materials and interpretation of test results in terms of material suitability to the intended consruction. This laboratory has got the following tests and equipment.
Major Equipments
UTM – Universal Testing Machine

Tension test
Shear test
Compression test

Simply Supported Beam
Cantilever Beam
Rockwell Hardness Test Machine
Brinell Hardness Test Machine
Impact, Izod Test Machine
Spring Test Machine
Torsion Test Machine
Maxwell Reciprocal Test Machine
Electric Resistance Gauge ( Strain Gauge)

Geo-Technical Lab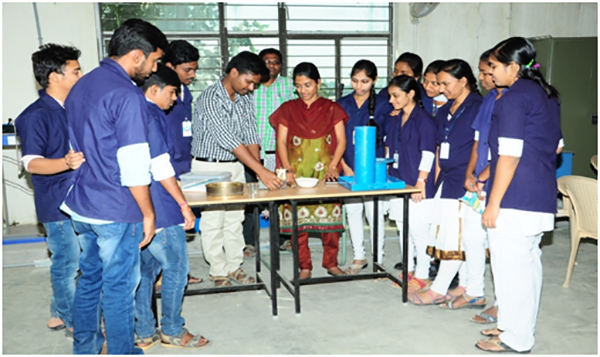 Soil Testing is an integral part of soil mechanics and foundation engineering. Geotechnical laboratory consists of various equipment to test the soil. In this laboratory the student will be exposed to testing of soil and interpretation towards identification and suitability of soil to different intended construction projects. All physical and engineering properties of soils will be assessed in the laboratory.
Major Equipments
Tri-axial Shear Test Apparatus
Direct Shear Test Apparatus
Consolidation Test Apparatus
CBR Test Apparatus
Permeability Test Apparatus
UCS Test Apparatus
Vane Shear Test Apparatus
Proctor Compaction Test Apparatus
Field Density Apparatus
Hydrometer Analysis
Specific Gravity of Soil
Atterberg Limit Tests Apparatus
Sieve Shaker
Ovens

Concrete & Highway Material Testing Lab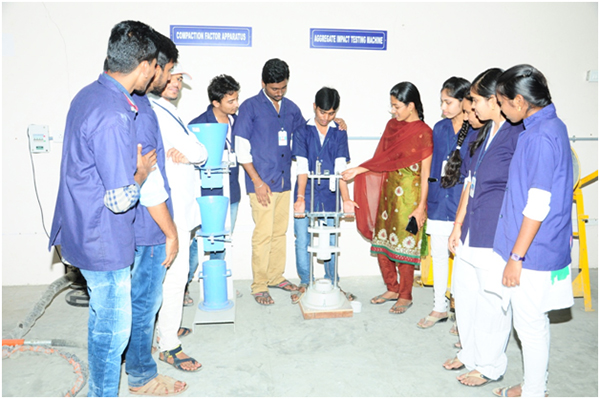 The testing and inspection of concrete and concrete aggregates are important elements in obtaining quality construction. The laboratory allows the students to test and assess the various fresh and hardened concrete properties that may affect the performance of concrete members. There are many apparatus and machines available at the concrete technology laboratory like Sieve Shaker, Compression Testing Machine (CTM), Flexure Testing Machine (FTM), Compaction Factor Apparatus, Heat of Hydration apparatus, Permeability apparatus etc.

For the design the construction of highway and airfield, it is imperative to carry out tests on construction materials for their scientific designing and economic utilization. The prime objective of the different tests in use is to know and classify the pavement material into different group depending upon their physical and strength or stability characteristics. Marshall Stability Testing machine, ductility testing machine, penetration testing machine aggregate impact testing machine, abrasion testing machine, CBR testing machine are available in the laboratory.
Major Equipments
Computerized Compression Testing Machine (3000KN)
Compaction Factor Apparatus
Concrete Mixer-Pan Type(1 Cu.M)
Cement Mortar Mixing Apparatus
Sieve Shaker
Blaine's Air Permeability Apparatus
Vicar's Apparatus
Bulk Density Apparatus
Slump Cone
Weighing Balance(20Kg)
Los Angeles Abrasion Machine
Bitumen Ductility Apparatus
Centrifuge Extractor
Bitumen Penetration Apparatus
Softening Point Apparatus
Flash And Fire Point Apparatus
Aggregate Impact Apparatus
Aggregate Crushing Apparatus
Density Basket
Length Gauge/Thickness Gauge
Pycnometer
Water Bath
Hot Air Oven

Environmental Engineering Lab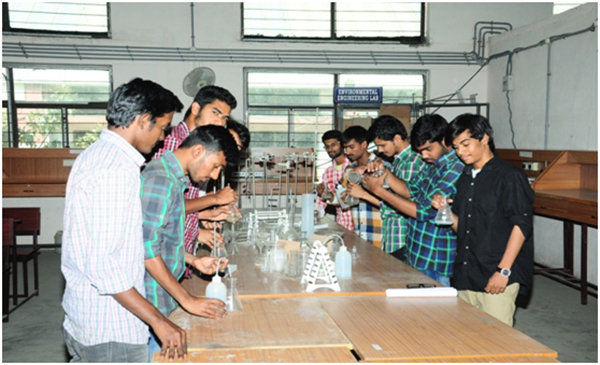 The Environmental Engineering laboratory practicals provide good insight into different experimental methods relevant to Environmental Engineering. In this laboratory, the students performs various tests on water and sewage samples to check their pH value, Total dissolved solids (TDS), BOD, COD, Total suspended particles etc. Testing of samples helps to assess the water quality standard of the region, pollution load in sewage and working efficiency of sewage and other water treatment units.
Major Equipments
pH Meter
Turbidity Meter
COD Heater
Oven
BOD Incubator
Refrigerator
Glassware
TDS Meter
Colorimeter
Conductivity Meter

Computer Aided Design & Drafting Lab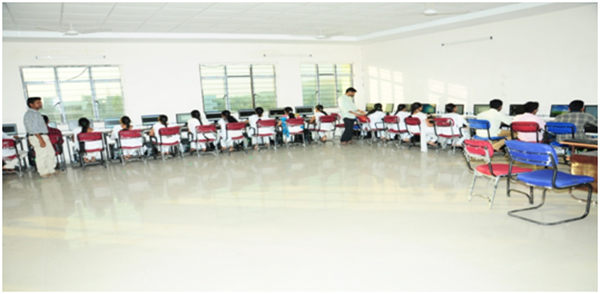 This laboratory enables the student to practice on relevant software useful to civil engineering practice. The following software can be practiced in the laboratory. From this laboratory the student can able to practice building drawing, GIS tools and also structural analysis and design aspects.
Major Equipments
Auto CAD 2016
GIS
Staad Pro
Mat Lab

Engineering Geology Lab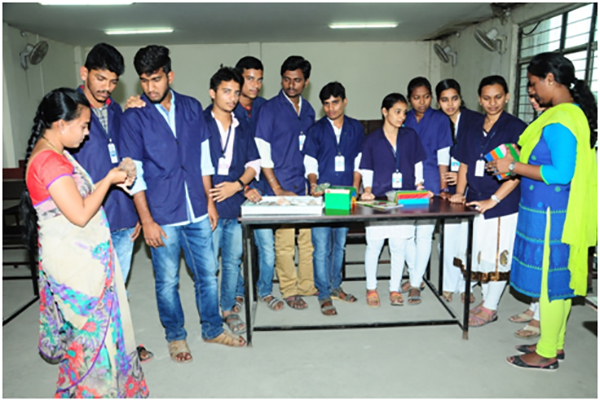 The identification of different types of rocks, minerals and understanding their behavior are the major objectives of geology. Further, development of cracks, fissures in rocks, their causes and their remedies are to be learnt in this laboratory.
Major Equipments
Minerals
Rocks
8 sets of minerals (10 in each) to show each physical properties of minerals
Charts consisting description of minerals and rocks
Structural Models

Fluid Mechanics and Hydraulic Machines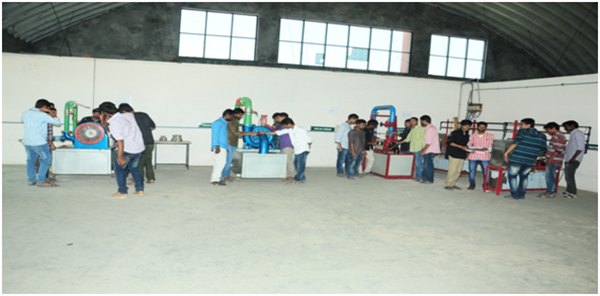 A basic knowledge of Fluid mechanics and hydraulic machinery is essential for all the scientists and engineers because they frequently come across a variety of problems involving flow of fluids such as in aerodynamics, force of fluid on structural surfaces, fluid transport. This fluid mechanics laboratory helps to understand these physical processes more closely. Various apparatus are available in the laboratory like, Verification of Bernoulli's theorem apparatus, venturi & Orifice meters, orifice & mouth piece apparatus, Flow over notches apparatus, vortex flow apparatus etc.
Major Equipments
Pelton Turbine
Francis Turbine
Orifice meter & Venturimeter
Reciprocating Pump/Centrifugal Pump/Multistage Centrifugal Pump
Bernoulli's Apparatus
Met centric Height Apparatus
Impact Of Jet On Vanes Apparatus
Pipe Friction Apparatus
Loss Of Head In Pipes Fitting
Orifice /Mouth Piece
Hydraulic Jump Apparatus
Rectangular & V-Notch Apparatus/Adjustable Channel Apparatus